Wave of relaxation
Magic Wave has been designed for relaxation and comfort. Its shape encourages relaxation while minimizing the space occupied by the couch.
With Magic Sun lamp Magic Wave provides a new level of relaxation. Comfortable body position and warming light loosens up the muscles and warms up the body at the same time having a positive impact on the skin.
Magic Wave just as other Fitnesswell devices can be made in custom RAL colors.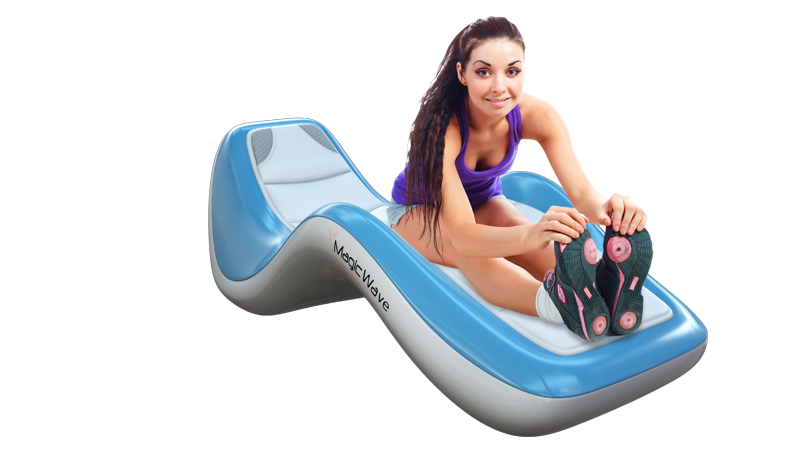 Massage mat relaxes the body by loosening and warming the muscles.
Convenient remote control allows you to adjust it to your preferred massage mode. Built-in speakers allow you to listen to your favorite music.
The Magic Wave massage mat and speakers are an extra option. When ordering the lounger, you can choose between the basic and luxury model.
Healthy light
Magic Sun Lamp can be used for relaxation and improving skin condition. It maximizes the effects of exercise when used with other exercise equipment. Infrared light helps in skin regeneration and raises body temperature.
Magic Sun cleans the skin and subcutaneous tissue of toxins, including gelling material in the folds of the skin – cellulite. Also stimulates collagen production for beautiful and supple skin.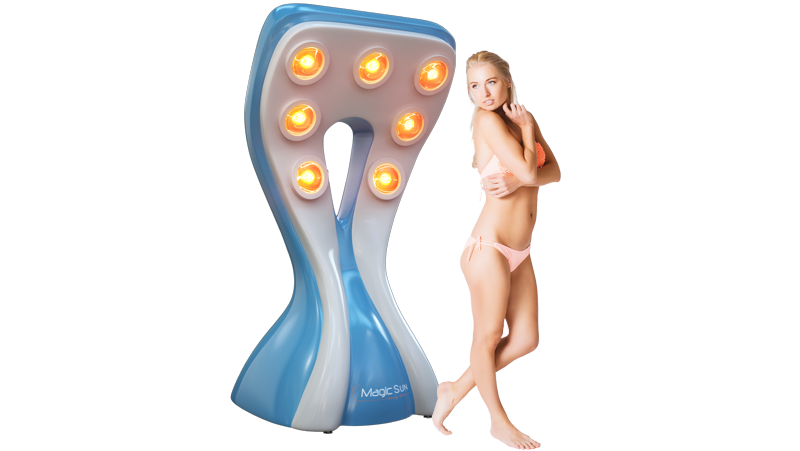 Model with Infrared – lamps have biostimulative and healthy effect on the body, hence their use for muscle pain, injury treatments, relieve inflammation and shallow circulatory disorders. It accelerates metabolism, increases body temperature and stimulates sweating.
With collagen lamps – collagen light rejuvenates the skin, improving its texture and color. Brightening skin discolorations, reduction of scars and stretch marks. Effectively inhibits the process of aging – makes skin firm and supple.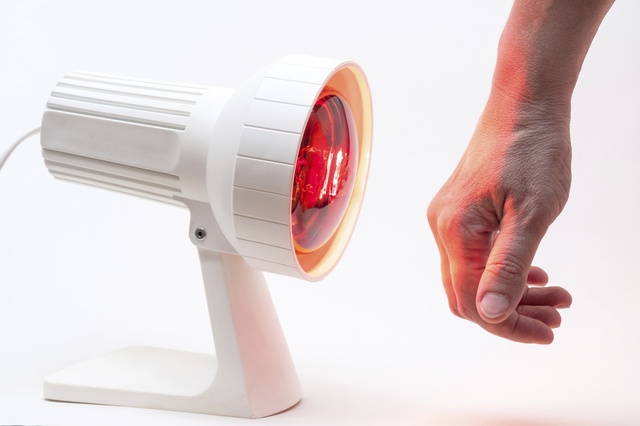 Improves the functioning of the musculoskeletal system, joint loosening connections, reducing the pain of back and spine,

Muscle and muscle spasm relaxation, aid in the treatment of muscle degeneration,

Helps in the healing of chronic inflammation,

Deep relaxation and regeneration in rheumatic problems,

Supports the immune system, preventing viral diseases,

Causes healthy sweating, even at low temperatures and in a short period of time,

Stimulates the reduction of body fat by speeding up metabolism in the exposed area.
Collagen retains the freshness and firmness of skin

Strengthens collagen tissue throughout the body

Collagen prevents skin aging

Tanning stimulates the production of witamin D3 and its positive effects on the body

Collagen revitalizes and refreshes the skin restoring its lost moisture

Collagen smooths wrinkles, especially on the face, neck and décolleté

Collagen and sunbathing increase ones overall attractiveness